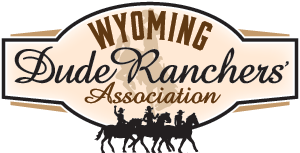 Reconnecting at a Wyoming Dude Ranch
An adventurous family vacation in the great outdoors


It was the end of May, and everyone had cabin fever. As a mom of four, I could tell my kids were burned out from the school year and needed a vacation where they could unplug and enjoy nature. As I discussed options with my husband, Tyler, and considered the ages of our children (14, 12, 9 and 6), I thought of my own experiences as a small child and which vacations had made an impression on me. The first thing that stuck out in my mind was the freedom, exhilaration and magical memories made when my family visited a dude ranch in Wyoming one summer.

As Mom, I made the executive decision that my kids should experience the same freedom to explore the outdoors and enjoy new experiences as I did on my favorite childhood vacation.
I'll admit to enjoying modern conveniences and comforts, so we chose a seven-day stay at a dude ranch that offers the best of both worlds. We had the option to try horseback riding, trap shooting, fishing, hiking and archery and still come home at night to a warm bed and a family buffet-style meal with the other guests on the ranch. For the most part, I was just glad I didn't have to cook for a whole week.
A schedule-free vacation

We were all ready to have some time without a set agenda. It's difficult for kids in this generation to understand the beauty that comes from a day ahead of you with no commitments.
"Mom, what are our plans for the day?" my nine-year-old son, Bobby, asked on our first day on the expansive ranch.
"The schedule is open, and you can do whatever you want," I replied with a smile.
"Well then, I'm going to go find some leaves and sticks to build a fort!" he yelled as he ran off with his six-year-old brother, Finn.

The older kids, Jacob and Emily, were a little unsure of what to do with themselves in the beginning, without a time frame or a schedule telling them where to be and when. Eventually, they decided to play in the creek, and then started an impromptu game of softball with some other teenagers at the ranch. It was incredible to see how once the kids unplugged for a few minutes, they made friends with everyone there. Tyler and I had the same experience and played cards with a couple from Minnesota at a picnic table in the sun while the kids played nearby.
A world of new experiences

We wanted our kids to enjoy free time to explore, but there were some experiences we couldn't let them miss. As an avid horse lover, I couldn't wait to start an all-day family ride. We saddled up one clear morning, and although I was the only one with riding experience, we all settled in quickly and moved through the quiet peace of the western Wyoming air.
Jacob and Emily were determined to go on a hike during our stay at the ranch, so the next day we left the younger kids to enjoy the children's programs and took off for an exhilarating trek. Jacob and Emily often fought at home, but that day on the trail, as I watched them laugh and chase each other, I realized that when it really mattered they were best friends.

The next day, the boys took off for a few hours of fishing while Emily and I went right back to the horses. I was so happy that she seemed to share my passion for the majestic animals and was amazed at how easily she fit in the saddle. With the wind streaming through her long brown hair while riding, I saw a younger version of myself in her face.
"You know we are going to have to find me a horse back home," she said with a laugh as she rode right by me.
Majestic views right outside our door

A little sore and tired from our activities the day before, we woke up late the next morning and headed to a delicious western breakfast. As I left the front porch of our cabin, I looked up at the blue sky and the Grand Tetons rising in the distance, and marveled that nature could be so overwhelmingly beautiful without even trying.

Our last day at the dude ranch was spent surrounded by the indescribable beauty that is Yellowstone National Park. We watched for bison, bears, elk, moose and bighorn sheep as we explored the park. Finn was determined to see a bobcat and kept us entertained with his antics all day.
What a family vacation should be

That night, after we had packed our suitcases to leave in the morning, we sat around the campfire with friends we had made from all over the country and watched the red, pink and orange of the picture-perfect sunset. Jacob and Emily ran off to play kick-the-can with their new friends, and Bobby and Finn ran around looking for sticks to take home as souvenirs.

As I reflected on a week of my family enjoying new experiences, discovering the magnificent beauty and wildness that is Wyoming, I looked at Tyler and said, "This is what life is all about."
And with that, I made another executive decision. Our regular family vacation spot would be a dude ranch in Wyoming.
Let the Wyoming Dude Ranchers' Association help you plan a dude ranch vacation.