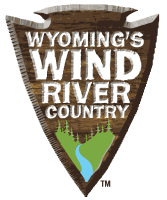 Dude Ranch in Dubois
Authenticity breeds delight in Wyoming's Wind River Country
By Katie Jackson


My husband, Scott, doesn't love tourist traps, and he had good reason not to trust me. When it comes to planning our getaways, I'm usually drawn to well-known destinations. But this time, I wanted to find something that would appeal to us equally. So, I'd consulted the experts and planned our dude ranch vacation in Wyoming's Wind River Country.

Expedia named Dubois, one of the communities located on the Wind River, the "best escape" in the state of Wyoming, and True West Magazine deemed it America's "best architecturally preserved town." Plus, photography is Scott's thing, and I'd read that National Geographic photographers host clinics in the area. Since animals are my thing, the dude ranch had me at horses.
Only the real deal
The sign hanging from the log building with a red A-frame roof read, "Groceries and Ice." But according to the ranch hand who'd given us a lift into downtown Dubois, Welty's also sold cowboy hats. We'd spent the past two days riding on the ranch, and since I'd had a blast, I felt I'd earned this purchase. Scott agreed, and he was curious to see the town that he pictured to be a Wild West theme park. He'd enjoyed chronicling our ranch time—insane sunsets, rock formations, horse herds and cowboy characters—but he was still wary of tourist traps.
"THE Butch Cassidy?" he asked in disbelief when the owner of Welty's General Store told us his great-great-grandfather—who'd founded Welty's back in 1889—had some pretty famous patrons. Apparently, Dubois was among the outlaw's favorite haunts. It really wasn't that hard to imagine what life was like back then. As True West Magazine had said, Dubois was so well preserved (in fact, Welty's is in the National Register of Historic Places) that if Cassidy came back to life tomorrow, he'd feel right at home.
Wooden sidewalks still connected downtown's historic buildings. What Dubois' main street lacked in stoplights and traffic, it more than made up for with charm and the kind of refreshingly slow pace where you can stop and smell the roses—or, in this case, listen to the music.
"What a cool replica!" I said when we found the source of the ragtime music coming from the boardwalk in front of Horse Creek Gallery.
"It's not a replica," said the smiling man seated at a wooden upright piano. Monte introduced himself and explained the history of the instrument: "This piano is more than 100 years old."
Getting up from the antique instrument, he invited us into the gallery. It housed his artwork: a collection of intricately carved antlers. They weren't replicas either.
Where the sheep roam and the locals dance

An hour after buying Scott's antler art (he deserved a souvenir, too), we were looking at horns. It shouldn't have surprised us, given the street names in town. Dubois' main street is Ramshorn Street. The National Bighorn Sheep Interpretive Center is on Bighorn Lane. Inside the center, we learned Dubois is the winter home of the country's largest herd of Rocky Mountain Bighorn Sheep. A volunteer called it "our herd" as she marked the animals' estimated monthly whereabouts on a map handout. The photographer in Scott was already scheming a return trip for December, which is prime time for Rocky Mountain Bighorn Sheep viewing.
For now, life-sized dioramas featuring full-scale taxidermy sheep climbing rocks and head-butting immersed us in their natural habitat. Interactive displays—including a pair of goggles that allowed us to experience a sheep's incredible peripheral vision— allowed us to see the world through their eyes. And the best part? We didn't have to wait in a single line.

"Tag the line!" shouted the caller later that night. We were on the dance floor in a square-dancing sea of locals and other ranch guests. Tuesday summer nights in Dubois bring out the best dancers in the county. I couldn't remember the last time I'd seen so much local talent concentrated in one place. In this case, it was the Frontier Room of the historic Rustic Pine Tavern. I'd never square danced before, but wearing my new cowboy hat gave me the confidence to kick up my heels. As I do-si-do'ed with friendly locals of all ages—considered celebrities in this small town—Scott captured it on camera. I'd only ever gone to staged performances with him, so I think the candidness of the moment won him over.
The kind of seconds that last a lifetime

"There are no sound effects here," a team roper said. "And the blood is real," a bull rider added.
After a few relaxing days at the ranch, we'd taken the guest shuttle into Dubois for its Friday night rodeo. It wasn't our first rodeo, but it was the most intimate rodeo experience we'll probably ever have. The venue was small enough that you didn't have to catch the action on a big screen—you can see the expression on the cowboy's face in person. After just six days of riding, I definitely wasn't good enough to compete in the barrel racing, bronc riding or roping events. Still, our ranch team needed Scott and me to represent on its ribbon race team.

"Did that really just happen?" I asked Scott after we'd won the race. We were both out of breath, from a combination of laughing and chasing a calf—not to mention trying to grab the ribbon tied to its tail.
"According to the dirt on my boots? Yep," Scott replied, before gluing his eyes to the arena where they were about to release the first bull rider.  
I couldn't believe that the same guy who was worried I was taking him all the way to Wyoming to experience another tourist trap was now cheering the loudest for the young cowboy holding on for dear life. Thanks to Dubois, I'd redeemed myself. I wasn't eager to start planning our next vacation, though—I just wanted to live in the moment.