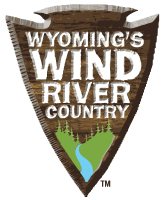 Room to Ride
Exploring Wind River Country's snowmobile trails with the guys
By Robert Jackson

Homework, chores and even video games didn't exist when there was snow on the ground. We'd spend hours constructing elaborate forts. Then, we'd destroy them in snowball battles so epic they divided our entire neighborhood. Now, as adults, my childhood buddies and I were bound for another snow-centric adventure. White was in the forecast for Wind River Country, and with our wives holding down the forts at home, we had permission to play.

A great home base with an even better backdrop
"Dibs on the top bunk!"
The snow on our boots hadn't even melted and already the guys were staking their claim for beds in our bunkhouse. With its log cabins, Crooked Creek Guest Ranch was like camp 2.0.
"I'm high enough at 8,400 feet," I said, throwing my duffel on a bottom bunk. I'd read that the Wind River Mountain Range, our playground for the next two days, is home to 19 of Wyoming's 20 tallest mountains. In other words, what this remote region lacks in cell towers it more than makes up for with towering summits, including the Absaroka Mountains to the north.

"To Ski-Doo or not to Ski-Doo, that is the question…"
Just like that, our dinner conversation quickly shifted from recapping the moose we'd encountered as we walked to Crooked Creek's impressive main lodge to our snowmobile rentals.
The great debate between the virtues of the Ski-Doo Summit 800 and the Arctic Cat M 8000—our adult snow toys of choice—would have continued until dessert. But in between bites of pork chop, I reminded my friends that all the mountain sleds I'd arranged packed serious horsepower. With its mountains, foothills and canyons, Wind River Country demanded it. Of course, if we had any issues, it was comforting to know Crooked Creek had a heated shop, on-site mechanic and even a 24-hour fuel pump.
We no longer had the bedtime we'd protested as kids, but we climbed straight into our bunks after our nightcap anyway. A high-adrenaline day lay ahead, and we weren't about to miss out on a Wyoming sunrise.
Putting the wonder in winter wonderland
The next morning, we went from beds to sleds in a matter of minutes. The only thing more convenient would have been if our bunks had four-stroke engines and were on skis. We were thrilled to see four more inches of fresh powder, something we were informed isn't unusual up here.
An early start was essential; the Continental Divide Snowmobile Trail that was beckoning us outside is more than 250 miles long. Our goal was to head toward the south gate of Yellowstone National Park. As the crow flies, Yellowstone is only 80 miles from Wind River Country. But, we knew Togwotee Pass is renowned for its deep, pristine powder and that we'd find it irresistible.  We eagerly sped into the endless Wyoming backcountry to explore on-trail and off-trail powder and panoramic views.

The first few hours were full throttle, whether we were surfing the 10-foot-tall drifts, racing in the smooth, flat meadows or climbing up to 10,000-foot-tall peaks. But after lunch, which we devoured at Brooks Lake Lodge located along the groomed trail, we slowed our pace. Mother Nature rewarded us with wildlife sightings, including a herd of elk in a valley below and even a fox diving headfirst into the snow to catch a mouse.
At the Divide Overlook we stopped for a group photo. As boy scouts we'd learned about the Continental Divide. Here, we were ready to put it into practice.
"Do you think this will end up in the Pacific or Atlantic?" I asked, sacrificing a drop of hot chocolate from our thermos.
Where legends like Butch Cassidy roamed
We were still debating the fate of that drop when the bartender set four overflowing drafts down on the massive pine bar. It was our first taste of Dubois nightlife. After snowmobiling up a storm, the general consensus was that beer had never tasted better.
The atmosphere we found in the historic Rustic Pine Tavern was just as memorable. Of course, we expected it to be. Arriving in downtown Dubois—once a stomping ground of the infamous outlaw Butch Cassidy—we'd passed a museum, saloon, general store and an inn with a stagecoach theme before parking below a neon sign advertising "The World's Most Unique Bar." Every object hanging up in this local watering hole—from the cowboy hats to the silver spurs and the hunters' mounts worthy of several lifetimes of bragging rights—has a story. We reminisced on stories of our own over a game of pool, and my competitive nature came out just as it used to during our childhood snowball battles.

"Winner buys dinner," suggested one of the losers.
We retired the well-used cues, nodded at the live band that had managed to turn us into country music fans and took another patron's recommendation to get dinner just down the street at Nostalgia Bistro. She'd waxed poetic about the hot-iron-grilled rib eye—something we expected to find in a Western town—and sang the praises of the blackened tuna sashimi—something we didn't expect to find in a Western town. Surf and turf in Wind River Country? It sounded delicious, but I felt conflicted. It's normally a special I split with my wife.
Another happily ever after
I ended up getting the buffalo burger stuffed with pepper jack and green chiles. Still, I told the waiter I wanted an IOU on the surf and turf. My plan is to visit Wind River Country again, albeit in the summer. I'll have to chat with my wife before we decide where to stay; I'd like to book the Big Diamond Ranch—a luxury home with private river access boasting world-class fly fishing—but I think she might prefer the convenience of Lava Mountain Lodge with its full-service restaurant and general store. Most importantly, on my next trip I'll bring my wife and, of course, our kids. What kind of dad would I be to deprive them of a destination where homework, chores and even video games don't exist?
Request a winter vacation packet with a Continental Divide Snowmobile map, and start planning your trip to Wyoming's Wind River Country.