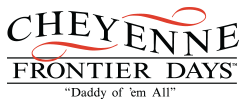 Cheyenne Frontier Days™ Rodeo: An Iconic Western Experience
Discover a sporting event like no other


He's got dirt on his face. As he tapes his sore shoulder, he hopes he has enough adrenaline to endure the eight infamous seconds.
She's wearing makeup. She maneuvers her horse through the clover leaf pattern with precision and grace.
They might seem like complete opposites, but bull riders and barrel racers have much in common. They are elite athletes, competing in sports that require speed, strength and split-second decisions. They don't have guaranteed contracts. They spend countless hours building relationships with animals, honing their skills, and conditioning their bodies so they can compete in rodeos week after week. They feed off the roar of the crowd, fueling their determination to win a gold buckle.

Make no mistake about it: Cheyenne Frontier Days™ Rodeo is a sporting event like no other.
Every year, upwards of 100,000 people from all over the globe flock to Cheyenne to be a part of this world-class event—the largest outdoor PRCA rodeo—and watch professional cowboys and cowgirls compete for upwards of $1 million in cash and prizes. Spectators are treated to fast-paced, action-packed competitions throughout the ten days. Cheyenne Frontier Days™ boasts double the bulls and bareback broncs as other rodeos, with two sections of each in its daily performances. In addition to heart-pounding roughstock events, the rodeo also features timed events—including steer wrestling, team roping and barrel racing—where the winners are often determined by mere hundredths of a second.
It's not just about the contestants. The announcers and barrel man add to the entertainment, making every minute memorable.
Beyond the ropes and reins

The party keeps going long after the sun goes down and the bulls are back in their pens. This year, Frontier Nights™ features headliners such as Florida Georgia Line, Charlie Daniels Band and Eric Church. Feel the base reverberating through your body as you move to the music. Or, grab an adult beverage in The Garden, where you can sit back and relax before showing off some fancy footwork in the intricately stitched boots you picked up while perusing the handcrafted jewelry, fine art and other wares sold in Frontier Park.
Cheyenne Frontier Days™ offers round-the-clock entertainment. Those who aren't too tired from rocking out the night before can start every other day with a complimentary pancake breakfast at Cheyenne Depot Square, an event that serves as practice for feeding victims of natural disasters. Don't let the line intimidate you—it flows fast and free, just like the syrup and the smiles. You can't help but laugh as you realize the batter is mixed in a cement mixer, and Rodeo Queens are flipping the pancakes high in the air before catching them on plates.

On the days breakfast isn't served, join the sea of cowboy-hat-wearing spectators staked out between the State Capitol and The Depot, and immerse your senses in the 90-minute Grand Parade. Listen to the confident cadence and rousing repertoires of some of the top drumlines and marching bands from across the country. Travel back in time as antique carriages and vintage floats dating back to 1926 glide past. Wave to rodeo royalty and enjoy the show.
Cultural connections

On the eastern end of the expanded rodeo venue lies Old Frontier Town, where you'll find fun for the whole family. Shop for authentic western wares, play games or ride ponies. You might even run into Buffalo Bill Cody, Wyatt Earp or Wild Bill Hickock as you wander around the western town.
Cowboys aren't the only icons of the west. Gain some insight into the lifestyle and legacy of several Native American tribes in Indian Village. Little ones squeal at the sight of authentic teepees and can even listen to storytellers while seated inside the colorful canvas structures. The performers don regalia even more elaborate than that of the Frontier Nights™ concertgoers, and the rhythmic rituals, hoop dances and ceremonial songs wow young and old alike.

Of course, vendors aren't the only ones selling delicious food. Check out the Chuckwagon Cookoff for an old-fashioned cooking competition more intense than anything on the Food Network. Only twelve chuckwagons are allowed to participate each year, and there's a lengthy waiting list to grab a coveted spot in this premier event. Standard ingredients are given to contestants, who then transform them into mouthwatering dishes in just a few hours. Think chicken fried steak, creamy mashed potatoes or steaming cherry cobbler. Get there early on sampling day—before the orange glow of the coals under the hanging coffee pots is gone—because the food disappears quickly. The winners receive bragging rights and are presented with a stunning belt buckle during the bull riding championships. But really, anyone who gets of taste of this chuckwagon grub is a winner.
Non-stop action

There's so much to do during the Cheyenne Frontier Days™ Rodeo. During the 10-day run, you can experience fashion shows, carnival rides, appearances by the USAF Thunderbirds, gunfight reenactments and more. Cheyenne Frontier Days™ Rodeo offers non-stop western entertainment at its best.

Get your tickets to the Cheyenne Frontier Days™ Rodeo.