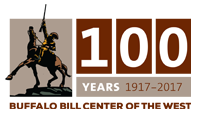 Enjoying Uncharted Territory
Discovering unique raptors and changing perceptions at Buffalo Bill Center of the West
By Katie Jackson


Our nine-year-old was in a staring contest with the Saddlebag Sandwich in front of him. "But didn't you say saddlebags are the leather things horses wear?" Riley questioned. "I don't want to eat leather."
"It's not actually made from saddlebags, silly!" his mom, Amy, said. "Besides, have you even tried it?" Riley shook his head, and Amy continued, "Clearly you didn't inherit my habit of inhaling food!"

Amy is a fast eater—faster than I am. Normally, I'd love to take a leisurely lunch during a family outing like this, but we had business to take care of. There were owl pellets to dissect, bird calls to identify, a rehabilitated falcon to race, and more surprises waiting for us at the Buffalo Bill Center of the West's Draper Natural History Museum Raptor Experience; we'd heard so much about it from a family friend. Riley lost his staring contest with his lunch—something he was entirely happy about immediately after his first tasty bite of the sandwich we picked up from the Center's Eatery—and as soon as the last crumb was gone, we eagerly headed to our first stop.
The hands-on feathered 411

We circled into the Draper Natural History Museum and headed toward an awesome interactive Learning Table that lots of people—kids and parents—were gathered around. Embedded in the huge table were leaves, flowers, pebbles, pinecones, and bark that we tried to memorize. It would be good information to remember when we arrived in Yellowstone National Park, our final destination.

The Center was right on the way and had been on our vacation radar ever since that friend of ours had mentioned it. His exact words were: "Even if you're not a bird person, you'll be blown away by the Draper." I glanced at my watch; it was time to hustle if we were to see those birds of prey.
Real superheroes have wings, not capes

"Most of our favorite superheroes have powers from unnatural sources like radioactive spider bites and medical experiments," explained Assistant Curator/Raptor Program Director Melissa Hill, "but the wildlife around us have their own incredible, superhero-like abilities that evolved naturally." Her examples were impressive: the red-tailed hawk's laser-like vision, the owl's uber-sensitive hearing, and the eagle's unbelievable strength. For each example, she introduced one of the museum's live birds—all with names and none the Center could release back into the wild. They'll live out their lives in the Center's onsite mews, a name for the building where they live. 
One of the newest birds of prey was Jade, a juvenile male bald eagle that lives in his own enclosure where visitors can see him all throughout the day. It was the closest we'd ever come to an encounter with our national bird.
During further education, Amy couldn't help herself. "They regurgitate hair and bones?" she asked, clearly disgusted but unable to look away as Melissa used a wooden probe to pick apart the owl pellet. Riley was torn between the unfolding pellet action and posing the plush owl in his hands. It was an accurate-weight stuffed bird that simulated how it would feel to hold a live owl.

The next bird we met was Hayabusa, the museum's favorite peregrine falcon, which represented the fastest species on Earth. When Melissa asked for a volunteer to race Hayabusa, Riley looked down at his feet, happy he'd worn his tennis shoes for what he thought would be an on-foot competition. But before he could raise his hand, Melissa outlined the rules of the race.
"Since Hayabusa has wing damage and can't fly, this is an eating race."
Riley and I looked at Amy thinking her habit of inhaling food would really come in handy with this raptor duel. She shook her head; "I can't race a falcon!" she claimed. "Have you ever tried it?" I mocked, stealing her line from the sandwich showdown with Riley at lunch.
Sheepishly, she shook her head. A couple minutes later, we watched her shove orange sections into her mouth. Despite her lack of hands and little beak, Hayabusa kept up with Amy. "The falcon almost always wins," Melissa explained, "unless she gets distracted by watching the human eat." With juice squirting down her chin and cheeks as full as a chipmunk's, Amy was definitely a distraction. Every museum visitor and volunteer in the vicinity watched this live entertainment go down in the amphitheatre.
Riley was adamant that his mom had won the contest, but in the end, the race was declared a tie.
Investing in souvenirs and an unexpected surprise

I would have paid $100 for instant replay of the race, but in the end, we spent our money at the Center's Museum Store. Riley, still in awe of Hayabusa, picked out a book titled, Peregrine Falcon. He immediately recognized the author and ran over to find her.
As Melissa happily signed the book for him, she suggested we check out the store's Birds of Prey of the West field guide which could help us identify the birds we'd see—albeit, at a greater distance—in Yellowstone. The Center is unique in that its raptor program only features birds native to the Greater Yellowstone Ecosystem. The Center has nine birds: red-tailed hawk, peregrine falcon, American kestrel, great horned owl, short-eared owl, bald eagle, golden eagle, northern saw-whet owl, and turkey vulture.

I recoiled when I learned about that last one. All I knew about vultures had come from watching them symbolize death on the big screen. They seemed like repulsive creatures. "I'm not sure about vultures," I declared, unable to hide the disgust in my voice.
"Have you ever met one?" Riley asked, now mimicking his mom and me.
Art and adopting our new friends

Riley had a point; I'd never met a vulture. Within a few minutes, Melissa showed me photos of their much-loved vulture, Suli. With her gnarly, flesh-colored face, red beak, bald head, and beady black eyes, she was far from attractive. However, her artwork was quite handsome. Suli was the Center's resident raptor artist.
"Vultures have flatter feet with shorter talons. This means they're better suited to walk through paint and across canvases to make talon art," Melissa informed us. She showed us a photo of one of the abstract paintings that Suli had created in the summer programs. It was a chaotic collision of red paint splashes and streaks, but you could definitely make out Suli's three-toed footprints.

I can honestly say I've never closed a museum, but that day, we were there until 6 p.m. on the dot. I silently thanked our friend for recommending the Center; our visit was the perfect introduction to Yellowstone. Only the allure of the birds awaiting us in the park could get us out those doors.
Riley walked to the car with his nose in his new book as I held Amy's right hand. In her left, she held paperwork for the Center's Adopt-a-Raptor program. We were the newest sponsors of Hayabusa and Suli. The Raptor Experience would use our donation to help pay for the birds' food and medical care, and Riley could hardly wait to ask his teacher if he and his fellow students could adopt a raptor as a class project.
"Have you ever adopted a raptor before?" Melissa had asked. That "no" was now a resounding "yes."
Join the Adopt-a-Raptor program with Buffalo Bill Center of the West.