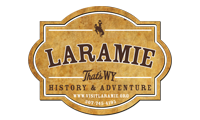 Living it Up in Laramie
A family explores the historic city during Jubilee Days
By Ashley Donde
Photo: Robert Fuller


Photo: Robert Fuller
Wide open spaces. Adventure. Expansive skies. Freedom. That's what Laramie represented to me as a child. My father grew up in the picturesque Wyoming town, and would talk about it every chance he got. He moved to a bustling metropolis before I was born—the same place I grew up—and never had the opportunity to go back and visit. At least not in person—when the hit 1960s Western, Laramie­, began airing on TV, he was transported.

Photo: Robert Fuller
Between him telling me about his favorite show (years after it first aired), and reliving his favorite childhood memories, it was safe to say I grew up loving Laramie as much as he did. Or at least the idea of it.
Our busy city lacked everything Laramie had. Instead of mountains we had high-rises, instead of meadows and clear sunrises we had parking lots and smoggy skies. I daydreamed about visiting Laramie one day, breathing in the clean air and exploring the town that, to me, represented freedom.
No more waiting

Photo: BHP Image
Decades later, and with two children of my own—16-year-old Andrew and 10-year-old Heather—I still hadn't made it out to Laramie. It was time to remedy that. We planned a family getaway and knew we wanted to bring my father along.
When my husband, Jeff, and I told my dad that we would like to take him back home, he choked up. This man was as tough as nails throughout my entire childhood, but had a tender spot for his beloved Laramie. "I couldn't dream up a better surprise than this," he said to me with a strong embrace.

Photo: BHP Image
Andrew and Heather were excited, too. We scheduled our trip during Laramie's Jubilee Days in July. The weeklong, annual celebration featured rodeos, carnivals and other family activities. One Jubilee Days event in particular was guaranteed to be special: Robert Fuller, one of the stars of Laramie, would be at the Wyoming Territorial Prison signing autographs after a screening of two episodes of the show. There would also be stagecoach rides and old-fashioned photography with Mr. Fuller, and even a tour of the prison—notable for one of its most famous inmates, Butch Cassidy.
I counted down the days in anticipation.
Photo: American Heritage Center
Surprise, surprise

Photo: Robert Fuller
From the moment we arrived, Laramie was living up to childhood expectations. The massive expanse of open land, flanked by mountains, was unlike anything I'd ever seen in person before—not a high-rise in sight. 
When we exited the car at our hotel my father breathed in deeply. "Smells like home," he said, looking completely blissful. I was so excited that he'd come along for the trip.
After unpacking in our hotel rooms, we met downstairs where my dad asked what the plans for the day were.
 "We're going to see Laramie today!" Jeff said, grinning ear to ear.
"Well, duh," Heather said, teasing him.
"I mean we're going to see Laramie, the television show. The one Grandpa used to love so much," Jeff smiled toward my dad. "They're hosting a screening at a prison in town, and Robert Fuller will be there signing autographs."

Photo: Robert Fuller
My dad's eyes lit up.
"Are you pulling my chain?" My dad questioned, with a laugh.
"I most certainly am not!" Jeff assured him. "Now, let's hop in the car so we don't miss it!"
We made our way to the historic Wyoming Territorial Prison for the screening. The large brick building cut a distinctive silhouette, with peaked roof in the center flanked by flat-roofed wings on either side. We eagerly exited the car.
We found our seats and enjoyed two episodes of Laramie. I laughed several times throughout the show as I overheard my dad whispering plotlines and explanations to Heather and Andrew, who paid rapt attention ("That's the guy we're going to see, Grandpa?" Heather asked. "Sure is," my dad replied).
After the show, we shuffled over to meet Robert Fuller. You could almost feel the excitement from our whole family, who either had loved Laramie for years or had just been introduced. Mr. Fuller spoke warmly to my dad, and they both shared a laugh at their memories of the show. A stagecoach ride and an old-fashioned photo with Mr. Fuller was the cherry on top for my dad.
Giddyup!

Photo: Barb Page
That evening we attended the Jubilee Days rodeo, the first rodeo most of us had attended. The Professional Rodeo Cowboy Association (PRCA) put on a show we will never forget. Cowboys and cowgirls raced horses around barrels and rode bucking broncos and bulls, performing feats that looked next to impossible. Heather was especially enthralled, as I caught her with a dropped jaw a few times throughout the show.
When an announcer mentioned that the Jubilee Days rodeo was more than 75 years old, Andrew asked his grandpa if he had ever participated in it. I was surprised to learn that my dad had come when he was younger to watch steer roping.

Photo: Barb Page
"It was a smaller event back then," he said. "But the talent's all the same!"
Of course, that kicked off a flurry of questions from Jeff and the kids, who were curious about my dad's past experiences. I loved hearing him tell some of the same stories that I'd heard when I was a kid. It seemed that Laramie's wonder spanned generations.  
Historic revelations

Photo: BHP Image
The next day, after enjoying a morning parade downtown, Heather told us that she had downloaded a Laramie app that included a historic walk. We let her be our tour guide as she directed our steps. We huddled together around her smartphone and watched informational videos about historic events that took place at the sites we stood at, like the "Bucket of Blood Shootout," a tumultuous time in Laramie history when outlaws ruled the city. We also learned about famous Wyoming women, the Overland Trail and the Ivinson Mansion. 
What I loved about the walking tour was that not only did we get to learn historic facts, but we also got to enjoy the beauty of downtown Laramie. It had the feel of an old Western movie set, with its charm and simplicity, but offered modern shopping and amenities.

After we finished with the tour, we stopped to sit and talk over coffee. I thought back to how I daydreamed of Laramie as a kid; how special this place was to me even though I'd never visited.
Laramie always represented freedom to me. After this visit, it would also represent family memories, history, bucking broncos, fresh air and the greatest trip with my dad, who caught my eye just then and smiled.
Get a visitor's guide and start planning your family's getaway to Laramie.